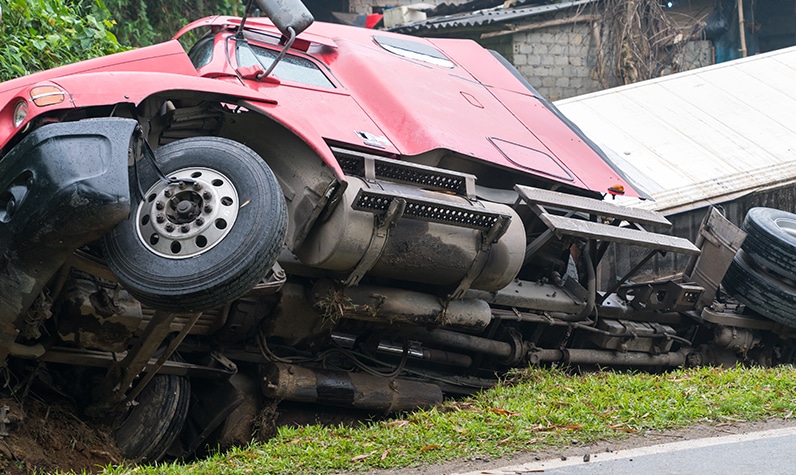 Vancouver, WA Truck Accident Lawyers
Strong advocacy for truck accident victims throughout Washington
There's nothing scarier than an 18-wheeler barreling down the road straight for your car. Truck crashes are often deadly or cause catastrophic or permanent injuries. Cars are simply no match for the size and weight of a truck. Many operators of commercial trucks and delivery trucks operate at high speeds and while they're tired.
At Philbrook Law Office, PS, our experienced Vancouver truck accident lawyers are respected among our clients and our legal peers for our track record of success representing truck injury clients. We fight aggressively to hold all responsible parties accountable for any wrongful deaths that occur. We demand justice if you suffer a traumatic brain injury, broken bones, spinal cord damage, paralysis, or any other injuries. Our lawyers work to settle your claim. We're ready, though, to try your case before a jury if the insurance company isn't fair.
How deadly are truck accidents?
According to the Federal Motor Carrier Safety Administration, there were more than 34,000 fatal crashes in 2017 on American roads; 4,445 of these deadly crashed involved a large truck or bus.
Truck crashes are more deadly and dangerous than car crashes because:
Large trucks are harder to control.
Commercial vehicles are much heavier than cars.
Tractor-trailers cannot be stopped quickly.
Truck drivers may be more suspectable to fatigue, which increases the risk of crashes and injuries.
If a tractor-trailer is traveling I-5, I-205, SR 500, or SR 14, and that truck collides with you, you are going to need help. Our attorneys are able, willing, and prepared to fight for you.
What are the leading causes of truck accidents in Washington?
The leading cause of truck accidents is negligence. Some of the more common causes of negligence include:
Driving while intoxicated or while under the influence of narcotics
Driving while distracted
Speeding or violating any traffic laws
Driving while fatigued
Failing to properly load and secure cargo
Not training drivers properly about backing out dangers and other types of truck accidents
Failing to keep the trucks in good repair
Trucks with defective tires, brakes, steering columns, air bags, fuel lines, or other faulty parts also cause many truck accidents. We file claims against truck and trailer manufacturers such as Kenworth, Mack, and Western Star when trucks are defective.
An experienced Vancouver truck accident lawyer works through discovery and with investigators to determine how the truck crash occurred. This understanding helps to ensure that liable parties are held responsible for all the damages the law permits.
Kinds of truck accident claims our Vancouver attorneys handle
Many types of truck accidents are common to cars, too. Trucks drivers are in danger of head-on collisions, broadsides, rear-end accidents, sideswipes, and single-truck accidents.
Some of the types of truck accidents that are unique to trucks are:
Blindspot accidents. Let's be honest. The sight-lines for trucks are terrible. Many drivers can't see to their right side. They can't see vehicles in their rear. Many truck drivers can't even see vehicles right in front of them because of the height of the truck and the smallness of the car. Truck drivers need to use extra caution to make sure they drive and turn only where they can fully see the traffic around them.
Rollovers. Trucks are especially prone to rolling over because their center of gravity is different than other vehicles. Truck rollovers often occur when drivers take turns too fast. Shifting cargo can also make it more likely for a truck to roll over. When rollovers occur, many other vehicles nearby may crash into the truck or into each other while they try to avoid the truck. Rollovers are often deadly.
Jackknife accidents. These crashes may be deadly. Essentially, the trailer of the truck tries to speed past the cab/front when the truck makes a quick stop. This causes the trailer and cab to rest at 90 degree angles from each other. Jackknife accidents are more likely on wet roads, around curves, and when the shipment moves. Empty trucks create an additional risk factor of a jackknife.
Wide turn crashes. It's fairly common knowledge for truck drivers that their trucks need extra room to turn. They often need to shift into another lane to make a right turn. That's why many trucks have signs on the rear of the truck to warn nearby passengers. Truck drivers need to use extra caution when turning to ensure they don't veer into oncoming traffic, and that they see or warn drivers to their right and in their rear.
Underride crashes. Small cars who are too close to a truck can slide under the truck if the truck makes a quick stop. Trucks should be equipped with underride protectors, so the occupants of the smaller cars don't get crushed. Many trucks also have side guards due to the same concerns.
Shifting and improperly loaded cargo. A major cause of truck accidents is cargo that moves causing the driver to lose control – or, worse, cargo that falls off the truck. Truck drivers must follow federal and industry rules for how to properly load and secure their cargo. Drivers should get off the road if their cargo feels like it's moving. If cargo spills, any cars near the spill can veer off the road into other cars – as they try to avoid the cargo. Alternatively, the cars may crash into the cargo or truck.
Blowouts. Trucks have many more tires than cars. They carry much heavier loads. Just one tire blowout can cause the truck driver to lose control.
Who is responsible in a Vancouver, WA truck accident?
The starting point with every truck accident case is the driver of the truck. Often, though, the driver is only one part of the claim. To hold all responsible parties accountable and to maximize your recovery, our skilled Vancouver truck crash lawyers fight to determine who else might be liable. In many cases, we also include one or more of the following as defendants:
The owners of the truck who may not be the same as the driver
The trucking company that hired the driver
A broker that arranged for the driving and/or the shipment
The owners of a loading/unloading dock
A construction company if a construction truck was involved
The makers and sellers of defective trucks or defective truck parts
Anyone who sold alcohol to a visibly drunk person who then drove the truck that caused the crash
The state or other entities may also be liable for a trucking accident in Washington.
What types of injuries can be caused by truck accidents?
Sadly, many truck crashes cause deaths or catastrophic injuries. Truck rollovers, for example, are quite deadly. Cars and even smaller trucks are just no match for 18-wheelers. Truck accident victims may sustain catastrophic injuries like:
Spinal cord damage, potentially leading to paralysis
Loss of limb
Broken bones
Severe burn injuries

Organ damage
Muscle, ligament, tissue, and nerve damage
Vision loss
No matter kind of losses you sustain, our Vancouver personal injury lawyers demand that the negligent parties be held liable. We will fight to recover:
Medical expenses
Property damage
Lost wages and earning potential

Compensation for your pain and suffering
Compensation for permanent disability or disfigurement
Loss of consortium
We may also seek punitive damages when the wrong is malicious or wanton.
Speak with Philbrook Law Office if you were injured a truck accident in Washington or Oregon
The insurance companies for the trucking companies have aggressive lawyers on their side. You need a tough lawyer who has the experience and resources to take on the company lawyers. At Philbrook Law Office, PS, we move quickly to assess fault, to file complaints against responsible parties, and to prepare your case for a strong negotiation or to try your case in court. To discuss your truck accident case at one of our offices in Vancouver or Battle Ground, WA, please call 360-695-3309 or use our contact form to schedule a free consultation. We proudly serve clients in the greater Portland area, and throughout Oregon and Washington.
Related Articles: